Alberto Giacometti
(1901­‐1966)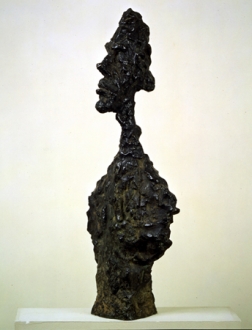 Tete (Trois Quarts et Profil) (Buste de Diego), 1957
Bronze, 5/6
23 7/8 x 9 x 6 3/8 in.
Signed and numbered 5/6
Susse Foundeur, Paris
Provenance:
Pierre Matisse, New York
Private Collection, Boston
Galerie Beyeler, Basel
Private Collection, Switzerland
Phyllis Wattis, San Francisco
San Francisco Museum of Modern Art
Literature:
Bonnefoy, Yves. Alberto Giacometti: A Biography of His Work. Paris: Flammarion, 1991, p. 433, no. 417.
(Another cast illustrated in color; another cast illustrated again in color, p. 435).
Matter, Herbert. Alberto Giacometti. New York: H.N. Abrams, 1987, p. 220 (another cast illustrated in color, pp. 128 and 129).
The Alberto Giacometti Database, no. 491.
The Alberto and Annette Giacometti Association Database, no. S-­‐2005-­‐4.