Constantin Brancusi
(1876—1957)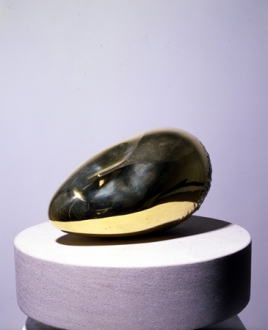 Sleeping Muse II, 1909—1926 Polished bronze, Cast G166e
12 x 6 3/4 x 7 in. / 30.5 x 17.1 x 17.8 cm.
Inscribed under right ear: "Brancusi" (and indistinct signature)
Provenance:
Jacques Doucet Collection, Paris
Galerie Jardin des Arts, Paris (May 1974) Harold Diamond, New York
Andrew Crispo Gallery, New York Thyssen-­‐Bornemisza Collection, Lugano Kent Fine Art, New York
The Ablah Collection, Wichita
Private Collection, Germany
Note:
The second indistinct signature is a cast of the signature from the alabaster original.
Exhibited:
Constantin Brancusi, 1876—1957: A Retrospective Exhibition. The Solomon R. Guggenheim Museum, New York; Philadelphia Museum of Art; Art Institute of Chicago, 1969
Brancusi. Haags Gemeentemuseum, 1970
C. Brancusi. Muzeul de Arta al Republicii Socialiste Romania, Petre Oprea, Buscharest, 1972
Constantin Brancusi: Klassiker der modernen Plastik. Wilhelm Lehmbruck Museum, Duisberg, 1976
Literature:
Brezianu, Barbu. Brancusi in Romania . București : Editura Academiei Republicii Socialist România, 1976.
De Micheli, Mario. "Constantin Brancusi." I Maestri Della Scultura , Milano: Fratelli Fabbri, 1966. Geist, Sidney. Brancusi: A Study of the Sculpture. New York: Grossman Publishers, 1968, ill. pl. nos. 78 and 79, p. 45.
_. Brancusi: The Sculpture and Drawings. New York: Harry N. Abrams, Inc., Publishers, 1975, no. 166a, ill. p. 119 (color).
_. Brancusi/The Kiss. New York: Harper & Row Publishers, 1978, ill. pl. no. 24.
_. Delicatesse de Brancusi. Paris: Galerie de France, Editions du Regard, 1985, ill. p. 22.
Giedion-­‐Welcker, Carola. Constantin Brancusi. New York: George Braziller, Inc., 1958, ill. pl. no. 12, p. 60.
Jianou, Ionel. Brancusi. Tudor Publishing Company, New York, 1963, ill. pl. nos. 24 and 25.