Gustave Doré
(1832-­‐1883)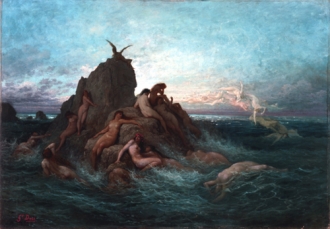 Gustave Doré was born in Strasbourg, France and early in his career he found employment in Paris as a literary illustrator. By 1853, Doré was asked to illustrate the works of Lord Byron which was quickly followed by several English commissions to illustrate the English Bible, Edgar Allen Poe's The Raven, Milton's Paradise Lost, Coleridge's Rime of the Ancient Mariner, and Dante's The Divine Comedy. Following an early launch at age 14 as an illustrator, Doré's paintings would soo n become associated with the other revolutionaries of mid-­nineteenth century French life—Gustave Moreau, Daumier, Courbet, Degas, Renoir and Manet.
Les Océanides (Les Naiades de la mer), (c. 1860s)
Oil on canvas
51 3/8 x 73 ¾ in.
Signed lower left "Gve Doré"
Provenance:
Adele Cassin (1831-­‐1921) to become Marquise Landolfo Carcano by marriage in 1889 La Marquise Landolfo Carcano, Paris
Galerie Georges Petit, Paris, 30 May 1912, lot 33 illustrated Hôtel Drouot, Paris, 17 February 1984, lot 46, illustrated Peter Nahum at the Leicester Galleries, London
Collection of Dorothea Tanning, New York Private Collection, Greenwich, CT
Note concerning provenance:
(Dore) also dined, from time to time, with Adele Cassin, a surpassingly rich demi mondaine who (thanks to the banker Edouard Delessert, one or two Barons de Rothschild and the founder of the Galerie Georges Petit) now lived in a splendid hotel, 1, rue de Tilsit, with a view of the Arc de Triomphe and a fine collection of works of art. Mme Cassin –one day to be the Marquise Landolfo Carcano – invited distinguished men to dinner, but they took care not to bring their wives.
Excerpt from Gustave Dore: a Biography by Joanna Richardson p. 135
Hotel Landolfo-­‐Carcano, 1, rue de Tilsitt, was built in 1868 within which the collection was displayed. In the same year, Adele Caussin's portrait was painted by Ricard Louis Gustave (1823 -­‐1973).
Portrait de la Marquise de Carcano is now in the Musee du Petit Palais.
Further note:
Marquise Landolfo Carcano also owned the following Dore paintings: Les Mares Torrent dans les Pyrenees
Notes concerning the subject:
Les Océanides is a haunting interpretation of a scene from Prometheus Bound, a play by Aeschylus, written between 460 and 450 BC. The water nymphs, daughters of the Titan deities Oceanus and Thetis, cling to the rock where Prometheus is chained. His fate was a punishment from Zeus for both stealing back a spark of fire from the Gods and restoring it to man and for holding the secret of the Oracle's prophecy: how the Océanides' mother, Thetis, would bear a child greater and more powerful than Zeus himself. As further punishment, Zeus ordered the creation of Pandora, the first woman, who released from her box all the evils of the world.
Dramatically lit, Les Océanides, swept by the sea's current onto Prometheus's rock, reveal not only Doré's understanding of chiaroscuro, a talent which can be traced back to his prolific work as an engraver and illustrator, but also the artist's restless meditation on mythology and its relationship to life and death. Doré's oeuvre is a crucial link between French Romanticism and European Symbolism.
Other Notes:
Gustave Doré set up his studio in Paris, converting the Amiros Gymnasium in the Rue Bayard to accommodate the enormous canvases he often favoured, which he filled with spectacular flights of his imagination. He opened his celebrated gallery in London at 35 New Bond Street in 1868. The British public, in admiration of his overwhelming imagery, dubbed him "The Visionary Painter".
"I wish I could determine where I first got that date in 1995. In 1999, someone offered a photogravure of this painting. The seller claimed the undated photogravure was from 1878. I've since figured out they had offered the 1912 photogravure. I have the original 1912 L.Carcano auction photogravure. (Further) It is very similar to zinc engravings in the 1879 Dore Ariosto folio. It's also similar to his 1879 Death of Orpheus painting & sculpture. But of course it is undated, so I am not one to quibble about a date." Correspondence from Dan Malan dated August 8, 2007" Nahum, Peter and Burgess, Sally. Pre-­‐Raphaelite-­‐Symbolist-­‐Visionary. London: Peter Nahum at the Leicester Galleries, 2001, ill. pp. 62-­‐63, 69, pl. 32. (Expertise lists date as c. 1860)
"…In France, the paintings of Gustave Moreau, and the popular illustrations and huge canvases of Gustave Doré, were exploring parallel worlds to their English contemporaries, inspired by the dark, spiritual poems of Charles Baudelaire and his translations from the works of Edgar Allen Poe. Doré's rich imaginative style grew from the turbulent romanticism of Delacroix (Les Océanides, pl. 32), whilst Gustave Moreau's visions haunt, as though gazing into the magical depths of a flawed gemstone." Peter Nahum and Sally Burgess, p. 7
Rosenblum, Robert Fantasy and Faith: The Art of Gustave Doré. New Haven: Yale University Press, 2007, ill. color pp. 24, 120, 184. (date is listed as 1878 following Dan Malan)
". . . Les Océanides (fig. 168), inspired by Aeschylus' Prometheus Bound, a drama that triggered Doré to cast the spectator adrift in the menacing, primeval nature familiar to his prints, now metamorphosed as paint on canvas. We are plunged into a savage trio of stormy sky, foaming sea, and cragg rock, upon which the tortured Prometheus has been chained. The apocalyptic mood, as in the Fall of the Titans (fig. 167), is that of the Biblical Deluge, another favorite theme of Doré that would take us to the limits of despair. Here, the water nymphs, daughters of Titan, lament Prometheus' fate, clinging to the rocks and circling above the waters, below the darkening clouds. Their nude bodies, contorted in grief, also have the sexual appeal of mermaids who might lure men to a tragic fate. This dreamlike vision of a Greek theme moves into the territory of later nineteenth-­‐century art, when femmes fatales proliferated in every guise. We are not far here from Arnold Boecklin's classical fantasies, a genealogical table that would take us to de Chirico and beyond. It is appropriate, in fact, that Doré's Océanides now belongs to an artist long associated with the Surrealists, Dorothea Tanning."
Robert Rosenblum, p. 24 Notes to pages 109-­196. The painting was first in the collection of (and possibly painted for Dore's good friend, the famous demi-mondaine La marquise Landolfo Carcano. It was then sold at the Galerie Georges Petit, Paris May 30 – June 1, 1912 No. 33. See valmy Baysse and Deze,1930, ill. pp 161 and 335: Leblanc, 1935 pp. 65 and 424. Eric Zafran p. 197
Exhibited:
An Exhibition of Paintings, Drawings and Sculpture. The International Fine Art Fair, 7th Regiment Armory, 2001
The Grosvenor House Art and Antiques Fair, London, 2001
Literature:
Desjardins, P. Esquisses et Impressions: Gustave Dore. Paris: H. Lecene et H. Oudin, c. 1889.
Galerie Georges Petit. Collection de Madame La Marquise Landolfo Carcano. 30 May 1912, cat. no. 33, p. 40, ill. p. 41.
Deze, Louis. Gustave Dore: Bibliographie et Catalogue Complet de l'oeuvre. Paris: Editions Marcel Sebeur, c. 1930 p. 161 (entitled Les Oceanides autour du rocher ou est enchaise Promethee).
Leblanc, Henri. Catalogue de l'Oeuvre complet de Gustave Doré. Paris: Charles Bosse Libraire, 1931, ill. pp. 65, 424.
Malan, Dan. Gustave Dore: Adrift on Dreams of Splendor. St. Louis: Malan Classical Enterprise, c. 1995, p. 337 (with the incorrect date 1878).
Nahum, Peter and Burgess, Sally. Pre-­Raphaelite-­Symbolist-­Visionary. London: Peter Nahum at the Leicester Galleries, 2001, ill. pp. 62-­‐63, 69, pl. 32 (expertise lists date as c. 1860).
Rosenblum, Robert. Fantasy and Faith: The Art of Gustave Doré. New Haven: Yale University Press, 2007, ill. color pp. 24, 120, 184 (date is listed as 1878 following Dan Malan).